Joni needs YOUR help! We need your help!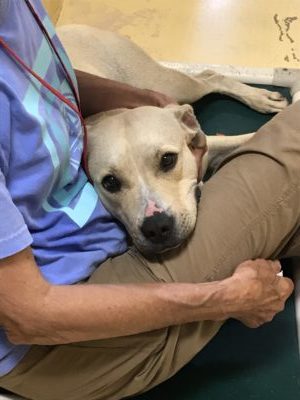 Joni's story begins over 8 months ago at our local animal control. She was scheduled to be put down when an out of town rescue offered to save her. We, the Enid SPCA, offered to help them with medical care and getting her spayed before she went off to be rescued. While at our facility being spayed, the other rescue backed out and left us with Joni. We were over full and didn't really have space for her at the time. We made space by doubling up a few friendly dogs in a kennel. We knew Joni was special right from the start. It appeared she had recently had a litter of pups but other than that she looked well taken care of. Just a few short weeks of being with us she was adopted and a family took her home. After just a few days they returned her. After that, Joni never cared for small children again. We are not for sure what happened in that short time, but it wasn't good.
Joni is an amazing girl. Our staff and volunteers have fallen head over heels for her. Joni will literally jump through hoops for you. She is amazingly smart and a people pleaser through and through. Joni has learned to walk well on a leash, sit, stay (sometimes), lay down and jump through hoops. Joni absolutely loves to play in the water and roll in the mud. Our Director was watching her out the window just the other day, and Joni was taking water in her mouth from her water bowl to the mud hole just so she could make her own mud to roll in. Joni will play fetch until you can't physically throw the ball any longer.
Joni has a few quirks and that is why she needs your help. Joni does not like anyone under 4′ tall to even look at her, she gets super offended. Joni is also a very athletic girl that can climb fences. We added a roll bar to the top of our fence and that has successfully contained her. Joni gets along with other dogs ONLY if it's her idea. In fact, we have labeled her dog aggressive for the safety of our staff and volunteers. But she does get along with some dogs just fine. Just today she was in a yard with another dog and they had SO much fun together.
Joni has had two accidents that have made our Executive Director make the decision to only allow her to go to an experienced shelter or rescue. She is no longer available to the public while here at the ESPCA. One incident was at an off-site event (before she was adopted the first time). An experienced volunteer handler had her and a small child startled her and she nipped him. He had a bit of a bloody lip but the parents would not even give us their name for a report it was so minor. The second incident happened when a volunteer was taking her for a walk down our quiet street and a child ran up behind them and startled Joni by grabbing her back end. Joni turn around and nipped him on the shoulder. It was hardly a mark…he would have had a worse injury had he fallen and scraped his knee.
We LOVE Joni. We just don't have the expertise to keep her safe. We do not have a trainer or a behavior team. We have reached out to local trainers and no one seems to have time to work with us and Joni. We have contacted so many rescues in Oklahoma, but everyone is pretty much in the same boat…they are full of pits and can't take on any more. We are now reaching out to YOU asking for help. We have volunteers and staff that would do anything to get Joni safe before it is too late. She is spayed, up to date on vaccines, microchipped, dewormed, heartworm negative, on heartworm prevention and on flea and tick prevention.
Can you help? We will do what it takes to get her SAFE!