-or- purchase at
*ESPCA Office Window*
1116 Overland Trail
*The Groom Closet*
2005 W. Chestnut
$20 to help the animals.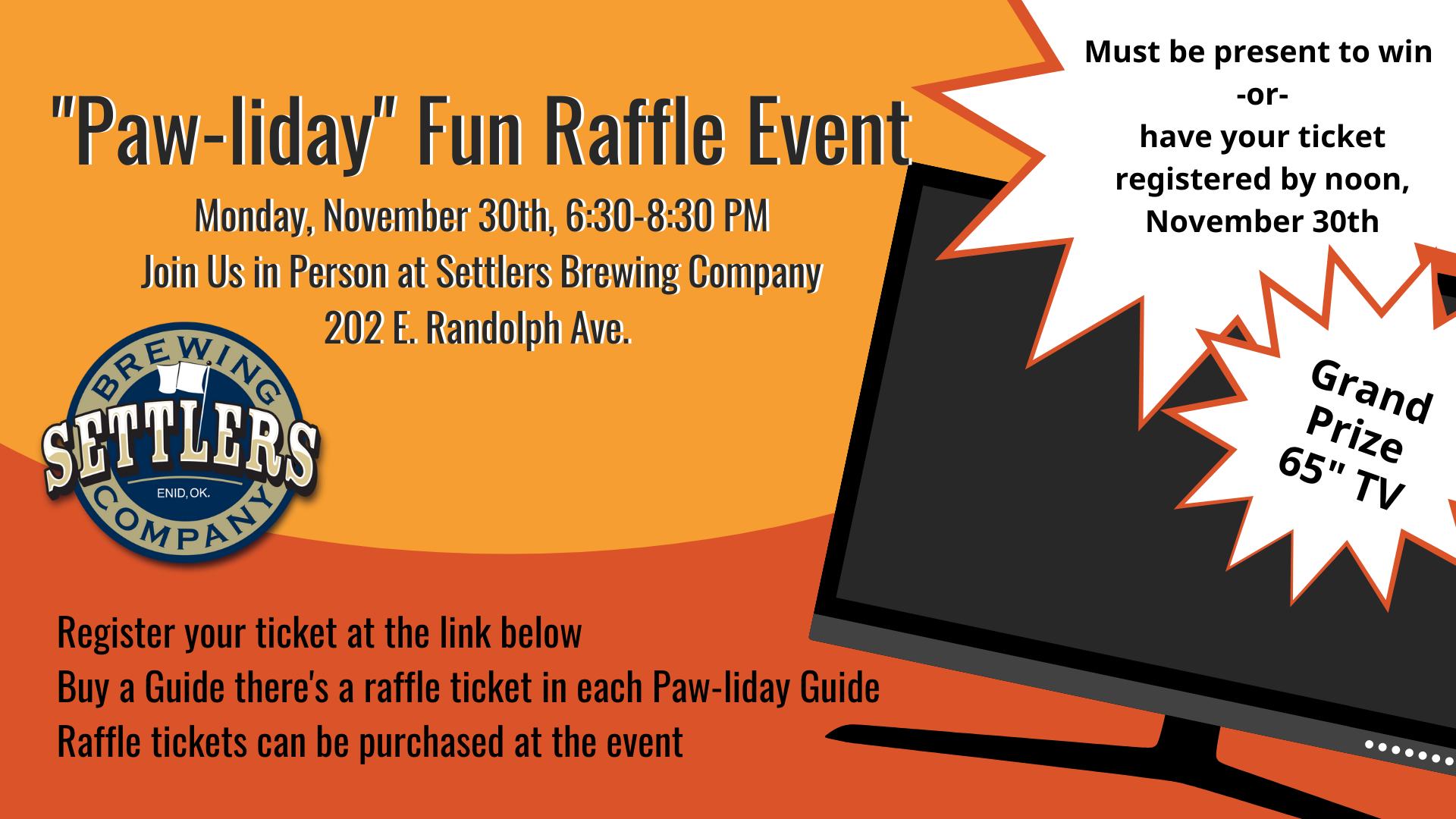 About this year's fundraiser
What is an UN-FESTIVAL and why is it so IMPORTANT?
For 20 years, the ESPCA Food, Wine and Beer Festival has been a staple in Enid and the major fundraiser for the ESPCA. This fundraiser literally allows us to continue our life-saving work during the lean, high-need summer months. Sadly, due to the Covid-19 pandemic, we are unable to host a successful event using that format. Yet the need to raise money remains to ensure we can continue our mission serving the animals in our community.
Even if it were safe to gather 500-600 people in a single location, our local businesses have suffered and we can't ask them to give in the manner they usually do. After much consideration, we are reinventing this year's fundraiser to what we're calling the ESPCA Food, Wine and Beer Un-Festival. This year's fundraising event will be to create a "Paw-liday" Gift & Fun Guide.
What you will find inside this "Paw-liday" Gift & Fun Guide is a celebration of local businesses, retailers, and service providers. All of these businesses give so much to our community and we invite you to join us in giving back to them. Covid-19 has disrupted business for most vendors, so when you purchase a "Paw-liday" Gift & Fun Guide, you can celebrate knowing that, not only are you saving animals, you are supporting our community!
Inside each "Paw-liday" Gift & Fun Guide you will find valuable coupons to businesses you know as well as some you need to know. You will have opportunities to purchase experiences such as tastings and tours. In addition, you will see information about auction items that you can bid on. An auction item could be anything from an extravagant dinner for you and 7-9 of your closest friends to a long weekend vacation at a relaxing location. All items have been donated to help save the lives of animals in need.
We encourage you to purchase a catalog for yourself and/or as a unique gift that won't be found anywhere else. Together we can raise money to support animals and help our community bounce back. 
The "Paw-liday" Gift and Fun Guide will be available in October 2020!
Until they're all home,
Vickie Grantz
Executive Director
Thank you to our printing sponsor Dense Comfort Solutions
Platinum Sponsorship
Park Avenue Thrift
J/B Liquor Store
Jim & Gabriella Wilson
Andy & Kelly Ward
Karen Hickman & Greg Banse
Ward Petroleum
Sheila Coontz/Coontz Roofing
Gold Sponsorship
Stevens Ford
Cummins Construction Company
Lee Thompson
Century 21 Homes Plus
Edward Jones
Russell & Ginny Jenney
Roger Henneke
Mike & Kelley Wright
Rick West & Cathy Stocker
Silver Sponsorship
PDQ Printing LLC
Jackson Diamond Jewelers
Mary Carlile
Art Reed/A J Publishers
Roger & Cathy Wiles
The Cat Resort
Heartland Cemetery
The Cat Clinic
Eric Brunken/First Command
Enid Pet Hospital
The Commons
Janice Eischen
Harvey & Megan Lavicky
Kent & Paige Keithly
Bronze Sponsorship
Mike Bennett Enid Storm Shelters LLC
Randy Breitenkamp Fence Solutions, Inc
Jim & Mary Henderson
Jim & Sharon Strate
Dental Arts Group
J's Donuts
Julia Rieman
Stephen Jones
Janet Canaday & Monty Shaklee
Charolette Wycoff
Terry & Elizabeth Lix
Vera & John Cromwell
Scott & Kim Olson
Claudell Thomas
Pam & Greg Lyon
Ken & Sheri Blasier
Christopher & Kathleen Reeves
Angela Peterson
Thank you to our supporting businesses and individuals!
H.T. Holden
"Bestbud" Charcoal Portraits
Enid Live Well/Tonya's Massage
Edigers
Hive Appeal
Jimmy John's
Papa Murphy's
Harry Morgaridge Handmade
Proof Wine & Spirits
Monkey Wrench Plumbing
The Groom Closet Pet Center
Rock Island Liquor & Wine
Pam Hurd
TLC Dental
Lorna Cunningham
Enid Brewing Company
Chick-fil-A
Tops & Stripes
McAlister's Deli
4 Paws Pet Sitting
Sherry Cornwell
Premier Eyecare of Enid
Skate Town
Golden Chick
Fly Fitness
PetSmart
Katie Hollingsworth
Ramsey's What Ever
Katy's Pantry
Meadowlake Golf Course
Pizza Hut
Nichole Litzau
The Brass Poodle
Buffalo Wild Wings
Leonardo's
The Square Nutrition & Energy
Pearson's Natural Food Center
Garfield Furniture
Romantic Mountain Cabin
Halo Dog Training
Jeff Zapp
Lollie's Grooming
Ace Hardware
Plants A' Plenty
Evans Drug
Lora Leigh's
Norma J's Liquor
Paradise Nails
Walmart
Bath & Body Works
Billy Sims Barbecue
Northern Oklahoma College
Uptown Florist
Subway
Felt Bird
No. 5 Findings
Boho Teepee
Popeyes
CM Miller
Lyon's Den
4RKids
Brick Oven Pizzeria & Pub
The Pastry Nook
JB Liquor Store
Jumbo Foods
Randy Wagner Law Firm
Lowe's
Jackson Diamond Jewelers
Individual Sponsorship
Vickie Grantz Executive Director
580-278-1969
director@enidspca.org
Corporate Sponsorship
Katie Hollingsworth Development Consultant
970-690-6077
giving@enidspca.org